Disastrous Dinners
Disastrous Dinners is a series of talks focusing on an accident or disaster and what can be learned from it. After the presentation, there will be a social dinner and drinks along with lots of time to continue the discussion.
The aim of Disastrous Dinners is to cover a wide range of accidents, including those from outside the process industries. As a result there should be something for everyone to learn from, whether they are a student, recent graduate or seasoned engineer.
Entry is Free of charge. Attendees will have to pay for their own food and drinks on the night.
I have frequently written some blog posts about disastrous dinners which are available as a separate feed
Next Presentation
Presenter: Iain Clenahan
Date: Wednesday the 27th of March 2019
Time: 18:30 for 19:00 start
Location: The Griffin, 266 Bath Street Glasgow, G2 4JP
The Hunterston B Nuclear Power Station uses carbon dioxide as reactor coolant, and a problem in 1997 resulted in a backflow of gas from a reactor's circuit into the main storage tanks. This raised concerns, could contaminated carbon dioxide get transferred into a road tanker? Could this road tanker then contaminate other carbon dioxide users? What effect would this have on the food and drink industry? Join us for a talk by one of the chemical engineers involved in the investigation on behalf of the Secretary of State for Scotland to find out more including which essentials were affected.
Sign up via the IChemE Website
Previous Presentations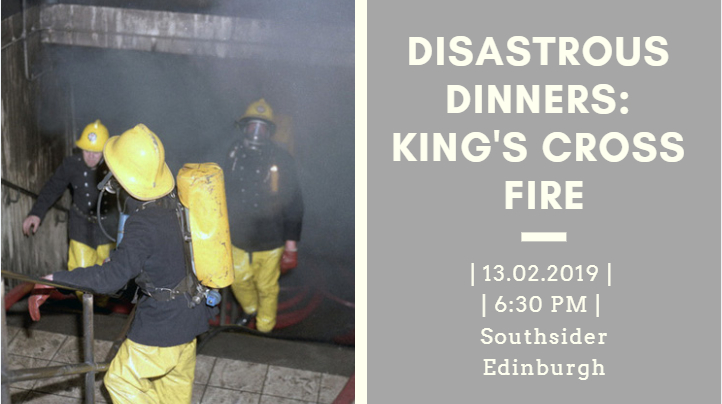 Presenter: Alistair Marshall
Date: Wednesday the 13th of Febuary 2019
Time: 18:30 for 19:00 start
Location: The Southsider, 3-7 W Richmond St, Edinburgh EH8 9EF
On 18 November 1987 a fire on a wooden escalator broke out and ultimately resulted in 31 deaths. This talk will cover not just the details of the event but the culture within the London Underground and their attitudes to fires and safety more generally that contributed to the tragedy.
What can we learn from this event?
How can we avoid similar situations in the future?
A rough transcript is now available as a blog post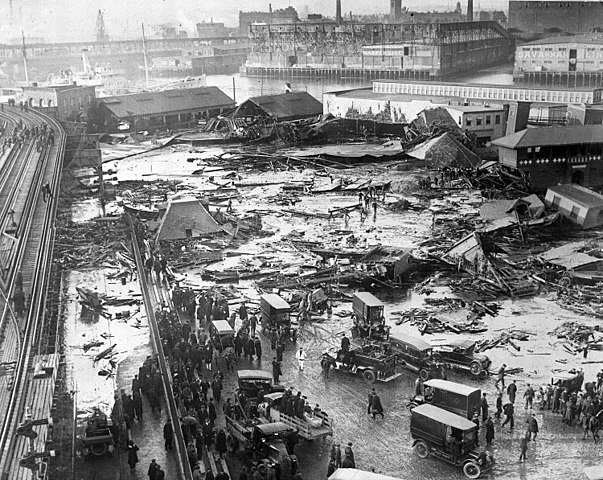 Presenter: Sue Walker
Date: Tuesday the 15th of January 2019
Time: 18:30 for 19:00 start
Location: Behind The Wall, 14 Melville St, Falkirk FK1 1HZ behindthewall.co.uk
The Boston Molasses Flood occurred exactly 100 years ago and resulted in 21 deaths, mostly from suffocation or crushing. A 27m diameter molasses tank suddenly ruptured resulting in a 8m high wave of molasses racing out and trapping pedestrians and passers by. This talk will consider the design, construction and testing of the tank as well as the tank's Design Operating Envelope and will seek to identify lessons for today.
Slides and Further Reading:
IChemE Loss Prevention Bulletin issue 264, December 2018
IChemE Loss Prevention Bulletin issue 082, August 1988